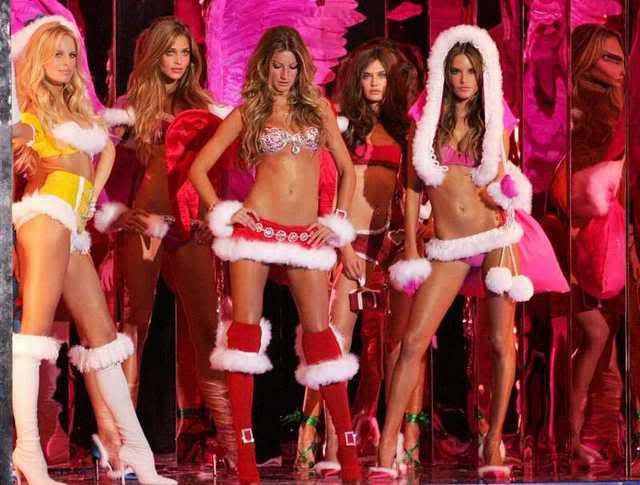 Ho ho ho! OK, now that the puns are done (feminist or anti-feminist? From whose point of view? When is it acceptable to point out that people may be participating in their own oppression, and when are they engaging in what some would consider 'degrading' activities of their own free will and for their own enjoyment? Discuss, keeping in mind that Gisele Bundchen--the one in front, in the sparkly bra-- is one of the highest-paid models in the world)...
Does the Victoria's Secret fashion show make ANY woman feel good about herself? I read recently that after a mere three minutes of looking through 'fashion' magazines, 76% of women reported feeling 'depressed, guilty and ashamed of their bodies.' Supposedly 2/3 of Americans are overweight--surely being confronted with the titanium abs and steel buns of Brazilian teenagers with D-cups is a little distressing for them? And estimates for the number of Americans with eating disorders run from 8 million to 10 million--I can guarantee more than one anorexic flips through the Victoria Secret catalog to compare her body to Adriana Lima's, rather than to look at the bras. So if this form of advertising makes everyone feel shitty about herself, why is it still around? Why do women still allow themselves to be kicked in the teeth by messengers of 'the perfect body,' then stand back up and pay for the opportunity to get sucker-punched again? Never mind that the average model weighs 23% less than the average woman, and often falls into the 'anorexic' range for BMI (body mass index). We're sold the picture of sexiness and health by women who, almost by definition (here I'm quoting from years of eating disorder literature) lack libido/sex drive, probably aren't menstruating, and are losing the fat tissue that makes up 'real' breasts (hence the need for implants). Of course there are more serious, non-cosmetic health problems too, but really...
Granted, the Victoria's Secret girls look marginally healthier than the ladies on the high-fashion runways, but that's like saying having pneumonia is great because it's not lung cancer...